Complex Hosting
As more organizations focus their business on the Internet, the need for reliable and scalable hosting grows immensely. MediaRazor Complex hosting offers high-availability hosting solution by clustering numerous servers together to help businesses attain advanced hosting configuration on their application backend.
MediaRazor carefully select our complex hosting hardware and network configuration. As every business have different hosting needs, our complex hosting solutions are customizable to your needs. Our network engineers will work side by side with your business, recommending the best hosting configuration for your business.
Who is Complex Hosting for ?
Complex hosting is designed for our customers who demand extreme reliability in hosting services. Our customers range from growing e-commerce website that needs extreme reliability to enterprise businesses who chose to outsource their hosting services to MediaRazor Technologies.
What can Complex Hosting do for me?
The answer is simple: reliability. Having several servers clustered together to serve your hosting needs is much better than relying on one server for all your needs. By clustering your servers, a backup server will failover and take over the role of the main server during disaster period. This does not only ensure reliability, but your load can also be distributed among several servers to improve performance.
Complex hosting isn't all about clustering. You will have the opportunity to run your own database server to improve performance and reliability. You can also choose to run your database server on our Private Network for security purposes. By combining server cluster and mission critical application servers, complex hosting provides the ultimate hosting solutions for enterprise businesses.
Contact us for a free evaluation. Three of our most common configurations appear below.
Example Configuration 1

Example Configuration 2

Example Configuration 3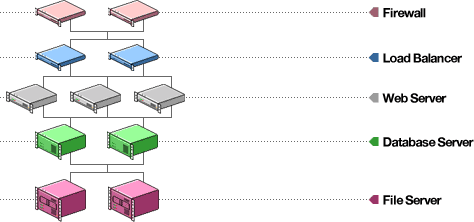 MediaRazor will do our best to help develop your business needs. Our Complex hosting can be custom configured to meet your best business needs. Please contact our sales representative to discuss network design, hardware selection, additional services and pricing. You can reach us by filling out our contact form or call us at 1.866.MRZ.TECH